In India, the IVF success rate varies between 30 to 35 percent. Around the world, the typical IVF result is around 40% for young women. Dr. Ruchi Bhandari (Director of Mishka IVF hospital in Jaipur says the chance of success is even higher for women below the age of 35.
This most commonly used assisted reproductive technology is also known as ART & usually measured by live births for every embryo that is transferred. 
IVF Success Rates Under 35 in India?
India is an evolving nation in the field of Medical science. And many years of IVF treatments going on in India successfully & now accepted and adopted within couples facing infertility issues. As we discussed earlier, The success rate depends upon many factors like age, lifestyle, the cause affecting fertility, and most importantly, "embryo." When the treatment is going all good, the chances increase up to 40%. The calculations of success rates shared by (AIIMS) are very much equivalent to many other nations & the percentage of cases is relatively high for women below the age of 35.
Many privately owned Ivf clinics claim their success rates 2 to 20 times higher, clinics stating that they have 70-80% success rates for women under 35 & women over 40 years may have 50 % chances.
IVF Success Rates by Age in India –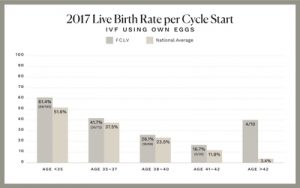 The primary factor in the success of IVF treatment is women's age for any couple. For example, women below 35 and who used their eggs have a 37.6% chance of (one baby) using IVF in 2018. and women aged between 41 & 42 have an opportunity to 11%.
IVF Success Rate Depending Factors –
Age: The age of women is the most affecting factor in the success of IVF treatment. While having a success rate of around 60-65%, this treatment is the most successful for women in-between the ages of 24 & 35. At this duration, women are at the peak of their fertile cycle. As the women get older, the success rate gets drops accordingly. With aging, women may face a decline in the quality or quantity of women's eggs.
Types of fertility problems
:
In the ongoing world, many couples face problems related to infertility in men and women. A situation like – endometriosis, blocked fallopian tubes, PCOS & in men- motility, morphology, and low sperm count. All these issues can be treated very well with IVF. Other such problems like -fibroids, ovarian dysfunction, and uterine abnormalities are a little more complicated to handle with Simple IVF & require other surgeries and donor programs.
Other Factors –
Previous pregnancy
:
if a woman already got pregnant once and carried her baby to term, she has a higher chance to conceive through IVF/ICSI. Women who had recently met with miscarriages can have issues while conceiving with the help of IVF. Advanced ART methods like PGT-A, PGT-SR & ERA may help you out in this kind of case.
Lifestyle
:
Firstly, If one of the partners smokes excessively, then the chances of conceiving drop high. If you're facing difficulty in conceiving or are already pregnant, highly advised to change your habits.
The fertility clinic
:
One of the essential factors that could give you a successful result is choosing a successful fertility clinic for your treatments.
There are so many factors directly connected to the fertility clinic and expertise, technology & protocols, including the lab's success rate, laboratory standards, air quality & the experience and knowledge of embryologists; all these play an essential role.
Best IVF Center in Jaipur with High IVF Success Rate –
At Mishka IVF Center, Jaipur (The best IVF center in Jaipur) there you will be meeting with their IVF specialist doctors in a fully delightfully environment to welcome a new little loved one in a family. The center is well equipped for the latest fertility solutions in Jaipur & well-endowed with solutions for both male & female infertility. You will see transparent treatment procedures, a well-equipped lab, Andrology & Urology Department, surrogacy, internal donor programs.
Factors that make Mishka IVF the best IVF center.
Transparent treatment procedure

Well equipped laboratory

Dedicated Andrology & Urology Department

Surrogacy

Internal Donor programs

Specified IVF Treatment Packages

A renowned team of Fertility specialists and embryologists

Dedicated emergency staff

beyond basic fertility treatment services

After pregnancy care

The dedicated team of IVF counselors
Address: 

138-A, Tonk Rd, Vasundhara Colony, Tonk Phatak, Jaipur, Rajasthan 302018

 

IVF Doctors: Dr. Ruchi bhandari, Dr. Rekha Bhandari, Dr Mahi Khandelwal.

In Vitro Fertilisation (IVF) Cost: Rs. 1,00,000

Intrauterine insemination (IUI) Cost: Rs. 15,000 per IUI cycle

Services Offered: IVF, IUI, ICSI, Surrogacy, Infertility Treatments, etc.

Rating: 4.2 / 5.0

Fertility Success Rate: 41% to 43%

Book Free Appointment: +91 6378-288-606

Website: https://mishkaivf.com/