Marble is a naturally beautiful stone that can enhance any space ability with its installation. Over the years, this stone has been the favorite of many artists, designers, and homemakers. It has a luxurious grand beauty of matchless veining that makes all the types of marble stand above every choice. Throughout history, marble has been used as a stone for making floors, cathedrals, monuments, and carving sculptures. 
Marble is a member of the limestone family and has a metamorphic nature that has a low index of refraction. Therefore, it is a great material that allows light to penetrate its structure. Depending on the designs and patterns of a variety of marble stones, Carrara white marble stone gives a signature dazzling look and feel. Marble when mixed with the impurities has a huge range of colors with a variation of veining patterns. 
If you want to incorporate marble into your house and do not know where to start. Here are some tips, usage, and design ideas for the Carrara white stone that help you make your decision with proper knowledge.  
Table of contents
Give a sophisticated and classy vibe to your bedroom
Get your aesthetic goal in the living room
Give special detail to your kitchen
You cannot ignore the bathrooms
Make your pool deck and patio outstanding
Give a sophisticated and classy vibe to your bedroom
Marble is a beautiful stone that gives an aesthetic appeal to any space design. When it comes to designing a bedroom, flooring is the important thing that requires great attention. Marble is so sophisticated that it gives a classy vibe to your bedroom. It is the perfect material to make your bedroom nice and visually welcoming. You can use this outstanding stone to cover the whole floor, even the accent wall, and fireplace area. Marble is a gorgeous stone that perfectly matches with a variety of materials you may have in your bedroom. 
You can also create an astonishing combination of wood and marble to elevate your bedroom. Carrara white marble also works great when combined with other metal and natural stones. If you have no experience of a home renovation or reducing, ask for professional help. Undoubtedly an expert designer can help you advise on the design and pattern that you have chosen to make your bedroom exquisite.
Get your aesthetic goal in the living room
The living room is the place where most people spend their time reading books or watching TV. Therefore it is also important for homemakers to design a living room that is not only functional but also has a nice visual appeal. A living room gives a variety of designs and styles to incorporate in a single place. When it comes to the flooring, are white marble does not only cover the whole space but also makes your space look wider and more vibrant. 
Marble also helps you attain the dynamic modern home look. For instance, if you like to have a stunning view with a sliding glass door in your living room, using a marble stone as a floor can enhance the whole ambiance and make you look worthwhile. 
Give special detail to your kitchen 
The kitchen is an extensively used part of every home therefore it also requires special attention regarding its design and styles. If you want to have a modern kitchen layout that looks classy, considering marble as a backsplash material gives a marvelous outcome. You can make your backsplash and island a focal point for your kitchen with a decent variety of marble stones. 
To make your kitchen more elegant you can add complementary white cabinets, a chandelier, and a nice countertop. Be creative with your thoughts and create beautiful patterns to complete the overall look.
You can not ignore the bathrooms
When it comes to the home designing bathrooms cannot be ignored. Whether it is a master bathroom or just a powder room it is a great part of home designing to make it look appealing. A bathroom with a marble floor is a great free-standing place. You can add a complementary countertop paired with the white when in the cabinets to complete the overall look and feel of your bathroom. Consider a white bath rug and crystal chandelier to make a bathroom up to the royalty.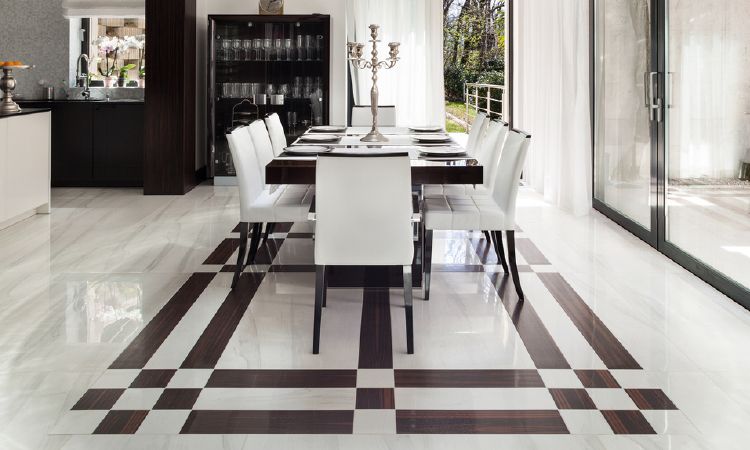 Make your pool deck and patio outstanding
Marble is undoubtedly a great material that has great durability. With a great variety of colors and patterns, it can deal with moisture. Therefore it is a great selection for your pool decks and patios. This stone has a polished finish that makes it most expensive. You can use multiple Patron marble tiles to create a stunning pool effect.
Final thoughts
When you walk into any room the flooring is the first thing that attracts your attention. Giving your home a flour treatment is a challenging and time-taking process. Relatively it is not easy to get it changed therefore make sure to have proper homework before making any choice regarding floor material. You can consider marble as a flooring stone to complement all of your home spaces and give your floor a good lifelong.