Kitchen trends do not remain stable as the preferences of the homemakers. Choosing the kitchen elements that suit their best both in terms of design and functionality is an overwhelming task. If you are remodeling your kitchen or building a new one, you might need some significant ideas to implement. Of course, every homeowner loves to style their kitchen to make them look beautiful while being practical. 
A practical way to design a kitchen is to start with planning. Because the kitchen takes a lot of your fortune, therefore, make sure to make a wise decision that won't feel the need to update in every season. Go classic and you will get a long-lasting kitchen. You can always add your personalization with ease to replace the accessories, wall paint, window treatment, and cupboard surface. 
Here are some essential ways that can give you the timeless beauty of your kitchen with the most out of its functionality. 
Table of content
Adding neutral color is the key
Define the dominating cabinetry style
A perfect kitchen layout is essential
Create a balance between everything
Include functionality to every detail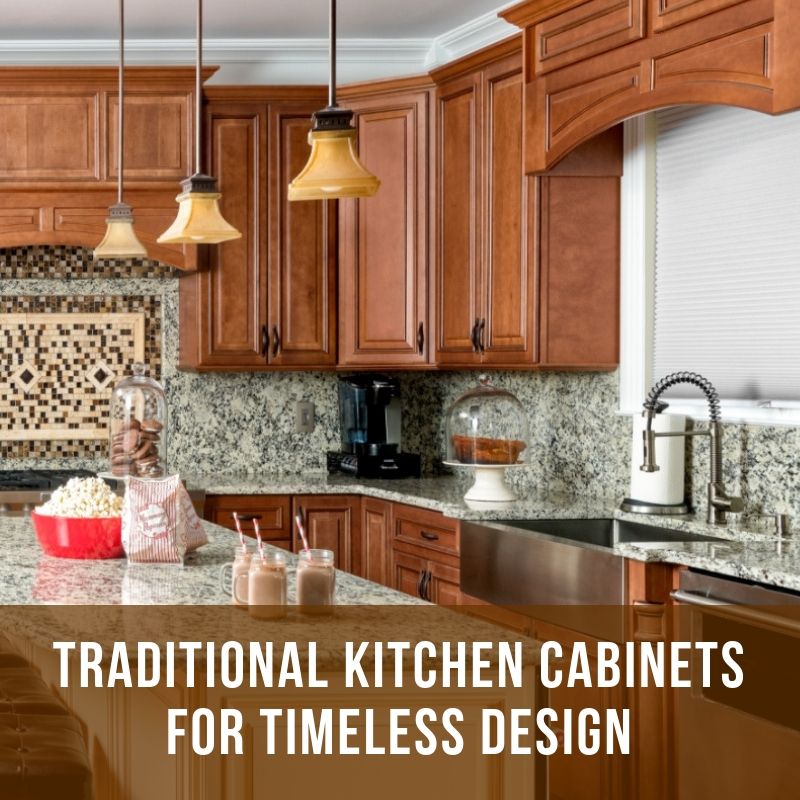 Adding neutral color is the key
When it comes to kitchen color ideas, choosing the right paint can be time-consuming and frustrating. Because there are so many options and shades out there, making a decision is difficult. Certain colors are specific for the purpose but the wide range of neutral colors are always known for their beauty. 
If you want to add flexibility to your design, neutral colors are the perfect suit to make your kitchen traditional contemporary, or transitional. Suppose you expect your kitchen space to look larger, contemplate with a touch of neutral colors such as black-white, or gray. Presume you decide to buy custom kitchen cabinets, consider applying neutral colors such as white or gray for your cabinets.
Define the dominating cabinetry style
If you are tired of your overflowing pantries or the extra occupied countertop then it is time to consider cabinetry styles that create a dominating effect in your kitchen. Kitchen cupboards can improve your kitchen storage place but also make your kitchen look super organized. When it comes to adding the cupboards at the right place you may have a lot of ideas. Well, it all depends on the kitchen layout. You can either apply your cabinetry on the walls if you have upper wall space that is enough to hold the cabinets.
A perfect kitchen layout is essential
Having a nice and functional kitchen layout is mandatory. If you are planning to build the house or remodel your kitchen it is important to plan your kitchen layout wisely. You can opt for the open concept kitchen which is a valuable option to consider. Consider your needs and requirements along with your work activities and plan your kitchen accordingly. If you need more counter space you can use the lower space for adding extra kitchen cupboards. If you have a small kitchen then you can try the concept of open shelving instead of the tiny cupboards along the walls to keep your area clean and attractive.
Create a balance between everything
Whether you are designing your kitchen by yourself or hiring a professional it is really important to maintain a balance between everything. No doubt, the attractive yet wide kitchen cupboards persuade many homeowners, but what if you have a small kitchen? Therefore it is necessary to consider what is the requirement of your kitchen space. If you have a long narrow kitchen it allows you to have a separate row of cupboards. 
Likewise, if your kitchen has a higher ceiling you can install the upper cabinets to get the most out of your kitchen space. Consider all of your kitchen equipment such as cupboards, countertops, backsplash, and any other hardware by creating a balance among them.
Include functionality to every detail
While planning your kitchen remodel, along with the design, focus on the functionality as well. Because it is a fact that design trends may change regularly but the functionality remains. Focus on improving your kitchen's organization. Before investing in having new stuff, consider whether you can scale down your existing inventory and make the most out of it. 
Instead of painting your whole kitchen try removable wallpapers which is a perfect way to add a pop of colors and patterns into your kitchen. Find a multitude of creative wallpapers that suit your personality and enhance the ambiance of your kitchen. 
Final thought
Coming up with new ideas for following the trend can be overwhelming. You are going to remodel your kitchen or want to add some extra functionality to your kitchen. The kitchen cabinetry is always beneficial. Focus on creating different zones to make some extra space that will give your kitchen a flexible and comfortable feel. 
Because ultimately it is all about getting a beautiful, modest, and practical kitchen design that works great and provides the most out of it. If you want to buy kitchen cabinets, consider Cabinetland which offers a wide variety of every kind of kitchen cupboard to fulfill your requirement.